VERGENTIS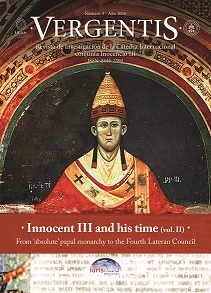 La Revista científica semestral Vergentis es la Revista de Investigación de la Cátedra Internacional Inocencio III para la investigación en Historia del Derecho, Derecho Común y Derecho Canónico; una Cátedra fundada por la Pontificia Universidad Lateranense, a través del Institutum Utruisque Iuris y la Universidad Católica de Murcia.
​ Dentro del amplio proyecto educativo e investigador de la referida Cátedra, la Revista Vergentis tiene como principales propósitos no sólo llegar a ser un espacio de reflexión y de búsqueda multidisciplinar, sino también ayudar de un modo especial a la comunicación entre estudiosos y profesionales del Derecho, de la Historia jurídica, del Derecho romano, del Ius commune y del Derecho canónico.
Dirigida por los Profesores Belda y Nacci de la Universidad Católica de Murcia y la Pontificia Università Lateranense respectivamente, Vergentis cuenta, además de con sus 5 vocales, 2 secretarios y 3 correctores, con un muy nutrido número de profesores que forman parte de su Comité Científico, procedentes de diversos países, universidades y distintas disciplinas, lo cual da muestra de la oportunidad que nos brinda a los juristas de muy distintas especialidades histórico-jurídicas a la apertura de un diálogo profundo en contacto directo con la experiencia humana y el ámbito cultural que nos rodea.
Esta joven Revista semestral (Diciembre y Junio), que tiene el mérito de aparecer publicada en formato papel y digital, va dirigida tanto a un público interesado en profundizar en el ámbito científico, como a un público deseoso de poder intercambiar visiones más amplias del mundo de la cultura, el derecho y la historia.
​DATOS DE INTERÉS
Inicio: 2015
Números: 3 (2016)
Periodicidad: Semestral
ISSN: 2445-2394
Editor: Universidad Católica San Antonio de Murcia: Servicio de Publicaciones
País: España.
Web:
http://www.vergentis.ucam.edu/
RIVISTA DI DIRITTO ROMANO

It was in 2001, practically at the turn of the 21st century, when the first issue of the Rivista di Diritto Romano. Periodico di storia del dirittoromano di dirittiantichi e dellatradizione romanística medievale e moderna came out. It was in this way that the immense need for a Roman Law magazine published online was met, whose wake was followed with its own stamp Diritto@Storia (2002) (See VIEW OF MAGAZINES- RIDROM 4/2010); General Magazine of Roman Law (2004) (See VIEW OF MAGAZINES- RIDROM 6/2011) and, so far, the International Magazine of Roman Law (2008) from which we address our readers.
There are many benefits indeed that this tool can have regarding research in the field, starting with the ability to consider this Rivista, just as its introduction conceived, as a kind of electronic center capable of making available to everyone a general picture of the innumerable places all over the world that are interested, in one way or another, in the romanistic discipline, intermediate or comparative law. A platform which contains summaries of juridic and literary texts; links in which vocabulary, repertoires, library catalogs, as well as websites related to subjects of history, archaeology, epigraphy, papyrology, etc.
A magazine which, as an electronic instrument, also offers the possibility of not only updating, in real time, the calendar of romanistic events, congresses or conferences but also maintaining constant and fluid contact with other colleagues; additionally, it is a fundamental objective to make publications that have been recently published available to the scientific community as well as reissues / reprints of older copies (the most important of which being the six volumes of the Basilic in the edition of the Heimbach brothers); indices of works and sources, facilitating the consultation of fundamental works which are difficult for young researchers and universities more recently created to find. A magazine in which even the possibility of "Bacheta" publishing works that are pending of publication is offered. A job which is truly commendable and shows great generosity on behalf of its creators.
All of that, just as we can see for ourselves, with just a click, on behalf of users with a great deal of work and effort, on behalf of those who are part of the team of this visionary, online and open Rivista di Diritto Romano, which is managed by Professor Zuccotti, from his desk in Turin, and which is made up by, as members of his Scientific Committee, professors Andreau, Ankum, Sirk, Torrent and Wacke.
A magazine, in short, just as was expressed in its introduction, in which tension about a past which is still current is combined with its link as a cybernetic instrument, situating it in a present projected onto the future.

INFORMATION OF INTEREST
Start: 2001
Editions: 15 (2015)
Frequency: Annual
ISSN: 1720-3694
Editor: Edizioni Universitarie di Lettere Economia Diritto (LED)
Country: Italy
Webpage: http://www.ledonline.it/rivistadirittoromano/
REVISTA DE ESTUDIOS HISTÓRICO-JURÍDICOS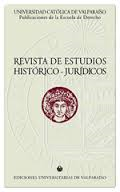 The Historic-Legal Studies Review (RHE), whose first issue appeared in 1975, belongs to the Pontifical Catholic University Law School in Valparaiso, one of the most prestigious and the third oldest Law Schools in Chile.
Primarily aimed at professors and research professors in historic-legal Sciences, not only professionals, but also those training, it includes a wide variety of subjects related to this field. Its main goal is to spread original and unpublished research articles in fields like Roman Law, History of Law (public and private), History of Canonical Law, European Law, Spanish-American Law, as well as History of Iberoamerican National Law, the impossible to forget Chilean Law, or the Legal Dogma and Legal Thought History.
The edition, available in printed as well as on-line and for free, allowing for wider circulation, facilitating access to it, which since the first issue, can be viewed on the website www.rehj.cl.
Under the direction as editor of professor Guzmán, the RHEJ boasts a large board of edition made up of professors from the Pontifical Catholic University of Valparaiso: professors Salinas and Merello, or the Chilean University: professor Dougnac, and with an expert Scientific Board in which the Italian professors Grossi, Bellomo, Schipani and Catalano; Argentinian professors Tau Anzoategui or Levaggi; professor Wacke from the German University of Cologne; Spanish professors Sánchez Bella, Peláez y Fernández de Buján, or professor Bravo from Chilean University are a part.
This publication will turn 40 in 2016 and it is an excellent example of adaptation to the new times and use of new technologies, as it is not only accessible in a traditional format but is also available on-line, which helps the scientific community to go on progressing thanks to an easy and free access to research, thus eliminating barriers and being an open platform to the world.
INTERESTING FACTS
Start: 1976
Issues: 36 (2014)
Frequency of publication: Annual
ISS on-line: 0717-6260
ISS printed version: 0716-5455
Editor: Ediciones Universitarias de Valparaíso
Country: Chile
Website: http://www.rehj.cl